Tabletop head-to-head electronic game
Tabletop handheld is an old type of electronic game of the past that I still find of interest since they provide users with a very simple way to interact. There are no useless buttons, nor hardrive crash. Here are two examples. The first one is Gakken's paint roller: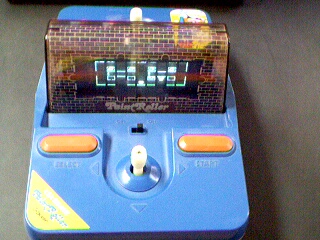 The second is Kenner's Star Wars Electronic Laser Beam:
What is nice in these 2 examples is that there used to be simple interface (with a screen in example 1 and without in example 2) to support tabletop head-to-head game. Now everybody is struggling to find ultra hype interfaces (tangible or not), with crazy interactive tables/walls/carpets/bathrooms/put whatever you want here/chairs... I am a bit nostalgic of the diversity/creativity of electronic games at that time: so many companies, so many interfaces, so many colors/forms...
And the best is when there is no screen! It's great to see how designers manage to create nice products without any display (or just 2-3 LEDs, well at that time...). I like the idea of leaving the screen aside. What I would like to claim here is that now that technology could be integrated, it's maybe time to think about interactive stuff not based on the desktop computer paradigm. The point of designing interactive tables for instance is not to support the same processes as those implemented in computers, it's more to support activities...