A 'cultural hub' in Dubai
I am not a great fan of Dubai architecture craze; however, there is this interesting new project called 'DUBAI HUB one' designed by GEORGE KATODRYTIS / STUDIONOVA, via Bidoun Magazine (Arts and Culture from the Middle East).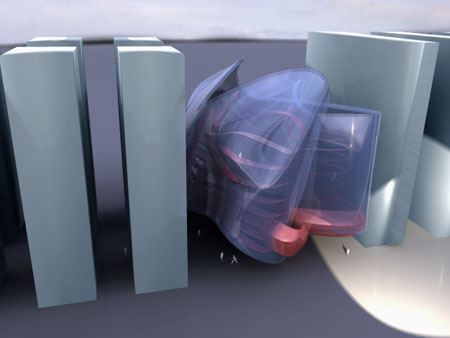 The proposal is for a series of cultural hubs which will act as focal points and public foyers where cultural programs can be plugged-in: art galleries, museums, libraries, performance stages, poetry reading salons, music recital spaces, art auction facilities, etc. The main lobby of the buildings is to be as public and accessible as possible, like a typical Dubai shopping center, with escalators and ramps leading to the upper levels, and to special rooms for additional cultural events. All events and items will be consumable: The aim is to convert the culture of shopping into shopping for culture. The external skin structure and glazing is designed using algorithmic weaving scripts.