A robot that can shit
Nam June Paik, is a korean artist who designed (in 1964) a robot that can shit in the streets of New York and call/mingle people who pass-by. According to an interview in Wired (back in 2000), it seems that it's the only pooping robot (well except Wim Delvoye's Cloaqua which is more a machine than an anthropomorphic robot). It's called "Robot 456" and the antropomorphism in this case was related to its innovative capacity to XXX.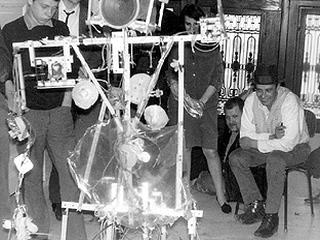 (Picture Photograph: Hanns Sohm | © Nam June Paik taken here)
Why do i blog this? I like some of his statements like "I make technology ridiculous", the way he manipulated technology and humour is fantastic.